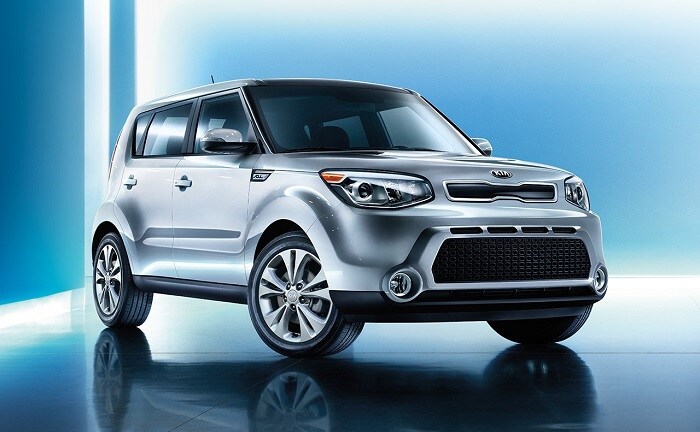 If you're looking to invest in a vehicle that's peculiar in style, yet appreciative, and succeeds in top safety scores, then consider the 2018 Kia Soul. Distinct and tasteful in style, others will try to guess whether this multi-faceted compact car is an SUV, hatchback or minivan. Defying all labels, the all-new Kia Soul invites patrons into its four-door model that boasts spacious cargo room and seating, a competitive starting rate, and top-tier interior design. Stop by Sterling Kia, where our friendly and knowledgeable staff will tell you more.
Model details

Engine: 1.6-liter engine

Power: 120 horsepower, 118 lb-ft torque

Transmission: Six-speed automatic

MPG: 30 HWY

 Safety/Special Features:

-Rollover protection

-Blind spot monitoring

-Bluetooth connectivity

-Satellite radio

-Rearview camera

-Five-inch infotainment system
2018 Kia Soul Details
With enough room to seat five people comfortably, the 2018 Kia Soul provides a full line of features that make this vehicle a popular selection.
The 2018 Kia Soul comes in three trims: Base, Plus and Exclaim. The Kia Soul features a 1.6-liter 4-cylinder engine with 120 horsepower and 118 pound-feet of torque that comes with the low-tier model. Although a six-speed manual transmission comes standard with the basic, a six-speed automatic is available. While the Plus drives on a 2.0-liter engine with 161 horsepower and 150 pound-feet of torque, the automatic transmission is only available. Opt for a seven-speed dual clutch automatic transmission with a 1.6-liter turbocharged engine with 201 horsepower and 195 pound-feet of torque with the Exclaim.
This compact crossover SUV accomplishes in performance and reliability. You get 24 MPG in the city and 30 MPG on the highway. Our Kia dealership serving Hearne, TX believes this year's Kia Soul make an impeccably safe, agile and dependable daily vessel.
2018 Kia Soul Safety and Special Features
At Sterling Kia, our well-informed professionals are happy to illustrate the 2018 Kia Soul model's safety and special features in person.
The 2018 Kia Soul comes with integrated turn signal mirrors for added visibility for other motorists. Its rollover protection system, adjustable pedals, and blind spot monitoring provide drivers enhanced assurance.
Our Bryan, TX Kia dealership respects the all-new Kia Soul for its generous warranty and phenomenal safety score. However, we also enjoy their special features that include Bluetooth connectivity, USB input, and satellite radio that comes standard.
If you are gravitating more towards the Plus, relish its benefits including its remote keyless entry, rearview camera, and five-inch touchscreen infotainment system. The Exclaim, on the other hand, provides Apple CarPlay/Android Auto capabilities and keyless entry and ignition.
Buying a 2018 Kia Soul
Have questions that need resolving? Stop by our Kia dealership and express your affairs to our affable staff. Whether you'd like to test drive the 2018 Kia Soul or would like to scope our other inviting new Kia cars, we are thrilled to address your wishes. Come by 197 North Earl Rudder Freeway to discover our compendium of options.